Long-lasting Red Grease Stays Put & Runs Cool
Customers who rely upon Almagard Vari-Purpose Lubricant appreciate its cool-running, long-lasting, water-resistant performance. It dramatically lengthens grease intervals, eliminates bearing failures, can extend bearing life by up to threefold, and does not harden with age.
Recommended for extended service applications, Almagard is extremely tacky and will not wash off, pound out or melt and run, even in severe conditions. It is ideal for on-and off-road equipment where high impact occurs, as well as many in-plant applications.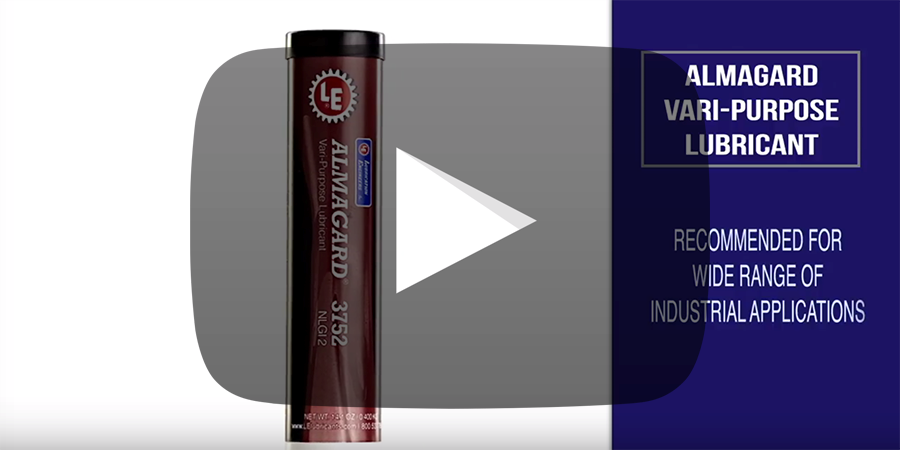 Watch video of Almagard Vari-Purpose Lubricant
Lubrication Engineers operates under an ISO 9001 Certified Quality System.
Benefits and Recommendations
Buy this LE Product!

N/A

Don't See Pricing? Register Today!

Available Container Size

N/A

Case 40 Tubes

Beneficial Qualities

N/A

Withstands Pressure & Reduces Wear

Demonstrates superior extreme pressure characteristics
Provides exceptional anti-wear protection
Exhibits long-lasting mechanical stability, does not change consistency after being worked thousands of times
Maintains a seal against outside contaminants throughout its lifetime
Protects costly bearing surfaces - even bronze and alloy - from rust and corrosion

Stays Put

Clings tenaciously to metal, resisting repeated impact

Won't pound out or sling off

Stays in contact zone, even in high-moisture environments

Won't wash out of bearings


Takes the Heat & the Cold

Performs well in a broad temperature range
Has a dropping point of up to 282ºC (540ºF)
Resists oxidation and won't melt and run from bearings
3750 (NLGI Grade 0) offers reliable pumpability at temps as low as -29ºC (-20ºF)

Available Grades

N/A

NLGI 2 (3752)
NLGI 1 (3751)
NLGI 0 (3750)

Proprietary Additives

N/A

LE's proprietary additives are used exclusively in LElubricants. Almagard Vari-Purpose Lubricant contains Almasol and Quinplex.

Almasol® solid wear-reducing additive is able to withstand extremely heavy loads, chemical attack and temperatures up to 1,900°F (1,038°C). It is attracted to metal surfaces, forming a microscopic layer but not building on itself or affecting clearances. Almasol minimizes metal-to-metal contact and the resulting friction, heat and wear.

Quinplex® impact-resistant additive contributes to outstanding water resistance, tackiness and enhanced mechanical stability, and helps to form a barrier against corrosion.

Performance Requirements Met or Exceeded

N/A

3752: Mack MG-C, Stord Rotadisc-Driers & Sweco-Vibro Equipment

Typical Applications

N/A

Chassis
Wheel bearings
Front axle arrangements
U-joints
Bucket pins
Bearings

Asset Reliability Solutions

N/A

Reliability Solution Products

Recommendation

N/A

3751 can be used in anti-friction bearings up to 6,000 rpm.
3752 can be used in anti-friction bearings up to 3,000 rpm.
Physical Characteristics - Typical
Thickener Type

N/A

Lithium Complex

Texture

N/A

Smooth w/Tack

Color

N/A

Red

NLGI Grade

N/A

2
Performance Test Results
Worked 60 Penetration ASTM D217

N/A

275

Dropping Point ºC(ºF), ASTM D2265

N/A

282 (540)

Oxidation drop in psi @ 100 hrs, ASTM D942

N/A

5

Corrosion Prevention DI H2O, ASTM D1743

N/A

Pass

Water Spray-off % Loss, ASTM D4049

N/A

8.6 typical / 20 max.

Oxidation drop in psi @ 1,000 hrs, ASTM D942

N/A

30

Timken OK Load lbs, ASTM D2509

N/A

70

Viscosity @ 100°C, cSt, ASTM D445

N/A

11.70

Viscosity @ 40°C, cSt, ASTM D445

N/A

144.0

Corrosion Prevention Sea H2O, ASTM D5969

N/A

Pass